1. A story about you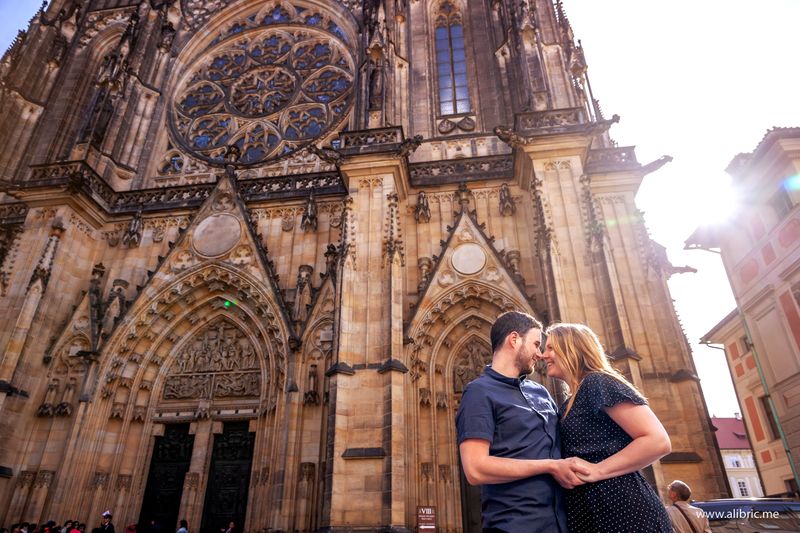 A photographer has certain knowledge, skills and abilities to create amazing shots, but you must understand that also a lot of things depend on you as well. The way you behave in the frame, what your mood is and how you interact with the photographer determines the quality of the photo shoot. If you are not emotional in the frame, then emotional photos cannot be obtained by default. As a photographer in Prague, I will definitely take well-framed pictures, but they will be all about your personality, so just don't try to be someone else on photos – be yourself.
2. Photo shooting time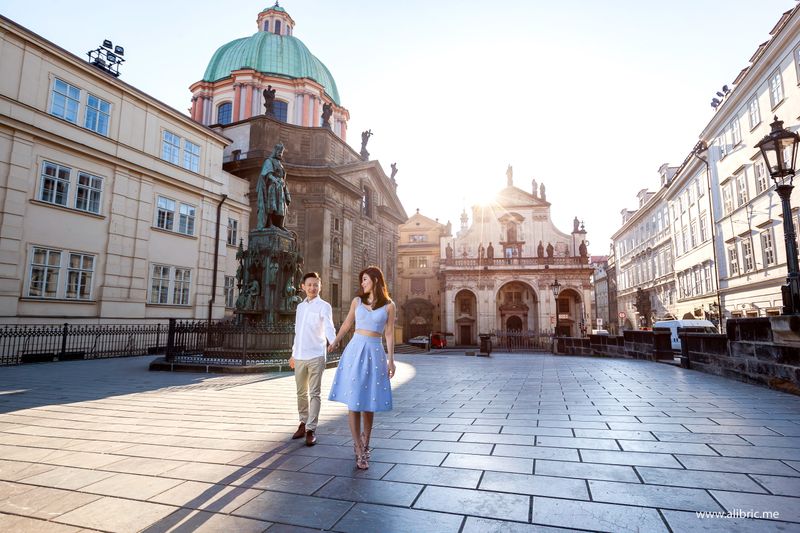 The most important thing in photography is light. And in order to get high-quality photos, you need to choose the right time for the photo shoot. In the day there are only two time periods for creating excellent pictures. The first is morning, at the dawn, and the second is evening, an hour or two before the sunset. If you are planning a photo shoot in Prague, you should choose one of the options for yourself. When choosing a morning, be prepared for the fact that we will have to meet at 6-7 in the morning, depending on the time of year. You definitely won't regret it if you choose the morning part, as in the morning you get the coolest pictures. Also, this is the only time when Prague does not have so many people on the streets, and we can hope that there will be no people in the pictures beside you.
If you choose evening time, you should understand that taking a photo without having people in the frame will work only in non-tourist places. Near the main memorable places, such as the Astronomical Clock, Old Town Square, Charles Bridge, Prague Castle, etc., there are always hundreds of people who will be visible in your pictures. Therefore I highly recommend choosing the morning time for the photo shoot.
3. Do not be late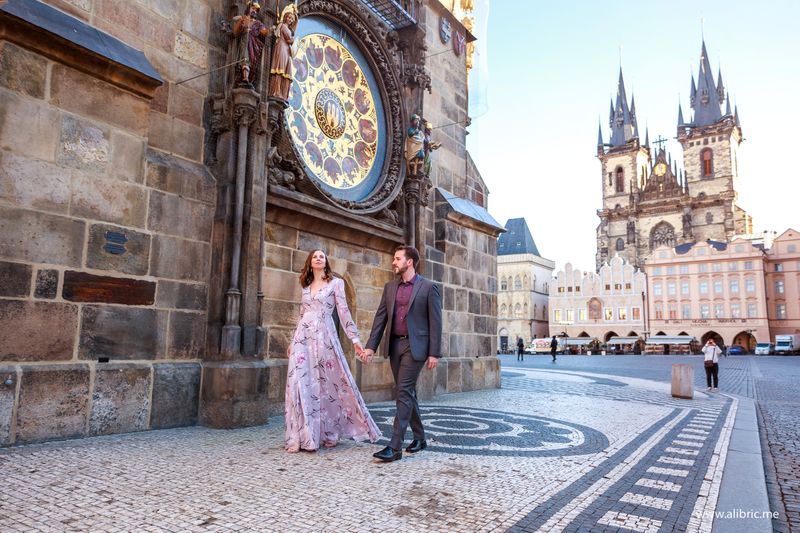 A very important point is not to be late for the photo shoot. Again, this is primarily because there is a certain period for a good photo shoot and the more you are late - the less time we have left for high-quality shooting. Besides, there are a million tourists in Prague who take to the streets quite early.
4. What do you want?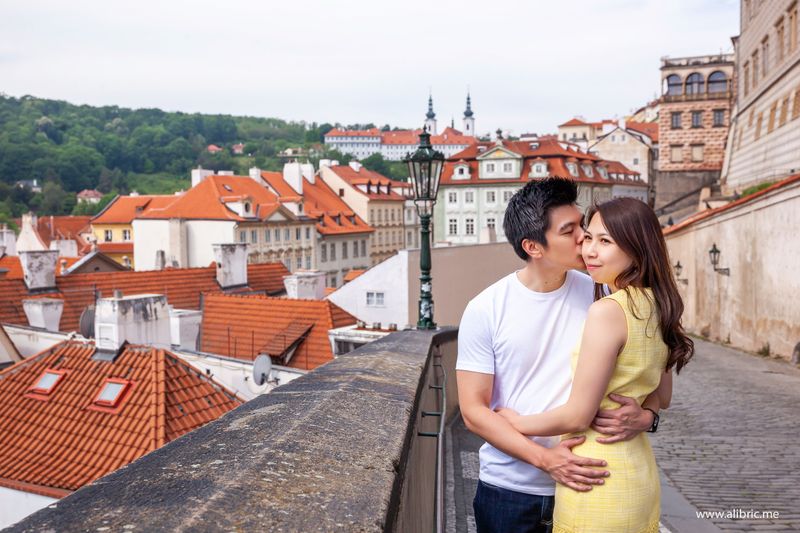 Before shooting you should decide what you expect from a photo shoot in Prague. For example, you want more architecture in the photo or more portraits, or maybe more romance or just a little... The better you describe your preferences, the more the result will coincide with your expectations. Perhaps you have certain ideas or references. Show them to me and together we will achieve an amazing result.
5. Clothing and style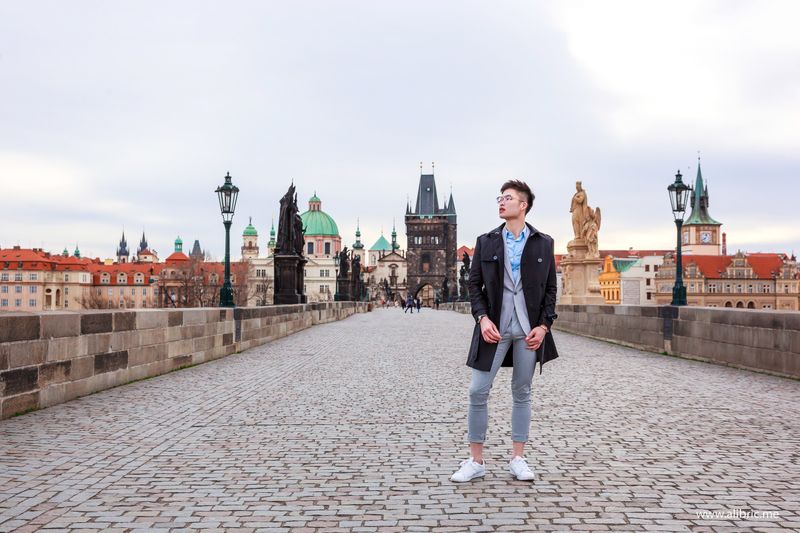 An important point in your photo shoot is your style. You can dress as you like, but it is better if it is something stylish and interesting. Also, the color of your clothes plays a huge role in the shooting. Prague is a pretty pastel city, and the same colors in clothes will fit perfectly into its architecture, while the black color, on the contrary, will be too contrasting. You can wear other colors outfit If you feel more comfortable in a bright color. If you have a couple photo shoot, then the more harmoniously you coordinate the colors with each other, the more beautiful frames we will get. If you don't know what colors are can be combined then I recommend you to look for some inspiration on the Internet since there are enough of them.
6. Make-Up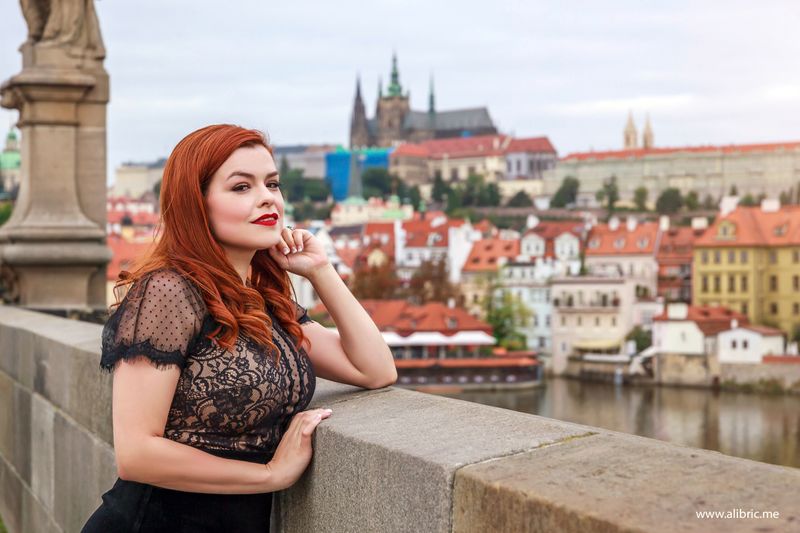 I highly recommend booking professional make-up artist services in Prague. I am sure that most girls know how to use cosmetics, but anyway, a professional makeup artist will be able to do this at the highest level. The makeup artist will do a makeup based on your color type and your clothes, so you will get an unrivaled style in your photos. It can be a little more expensive, but the result worth it. Honestly, you don't have a photo shooting in Prague every day, do you? Especially if you are planning a beautiful pre-wedding photo shooting in Prague, you will need both male and female make–up to achieve a professional result. If you need to book a professional makeup than contact me and I will recommend you a really good professional make-up artist in Prague.
7. Cooperation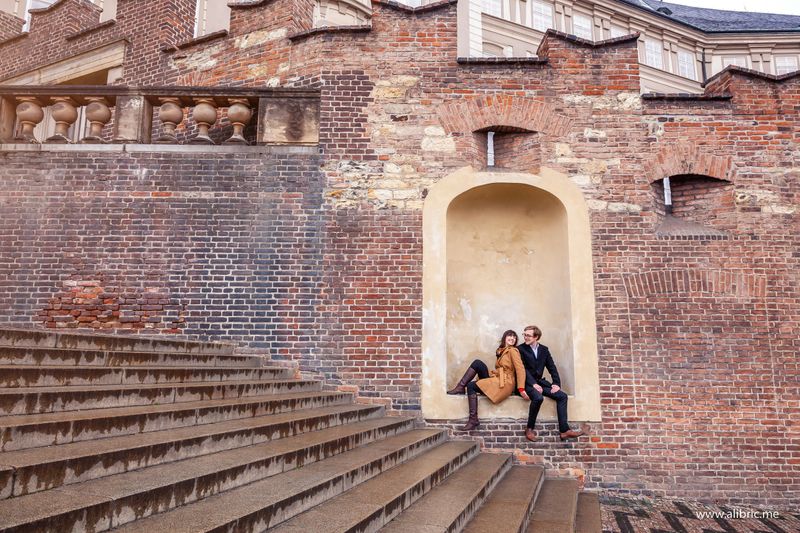 If you have a couple photo shoot, for example with your husband or boyfriend, please discuss all points with him in advance. It happens that when he comes to a photo shoot, it turns out that the guy is not particularly interested in what is happening. And he does everything reluctantly and without much desire. I want to say right away that in this case, you should not be awaiting for emotion photos. It will be something super primitive. If your boyfriend does not like to be photographed and doesn't want to participate in this, then you should not pull him into it by force. Please discuss all the details about your future photo shooting in Prague in advance with your partner.