If you are planning your wedding, pre-wedding or love story style photo shooting in Prague, you should definitely have a list of the most beautiful and romantic places. Make sure that you have discuss with your photographer all the detail about your photo shooting and what places will be included in your routе around Prague. You will discover very interesting facts about most romantic views and points following our list of top 10 places in Prague for you photo shooting below:
Charles Bridge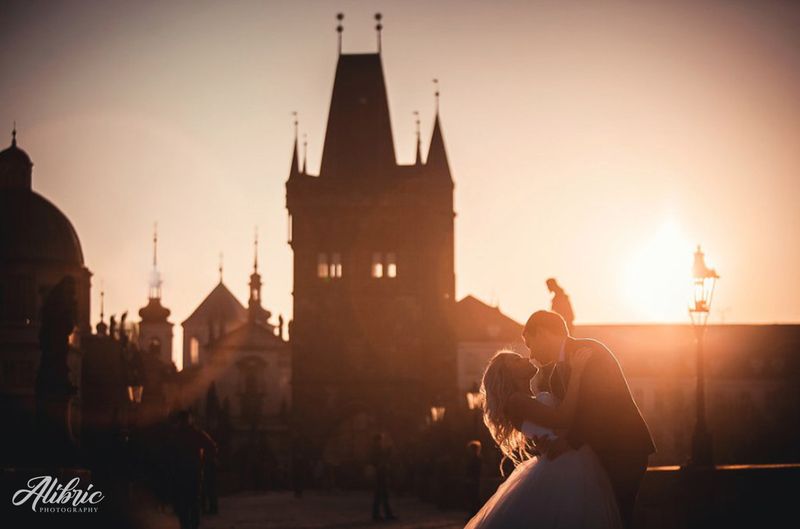 Historic bridge that crosses Vltava rive is one of the most popular and most romantic places in Prague. Ask your photographer to start your photo shooting from the Charles Bridge. Usually during the day it is one of the most crowded places in Prague. But early morning almost nobody there, you can see how the sun is rising and the atmosphere on your photos will be amazing. That place is perfect for the pre-wedding photo shooting.
Prague Old Town Square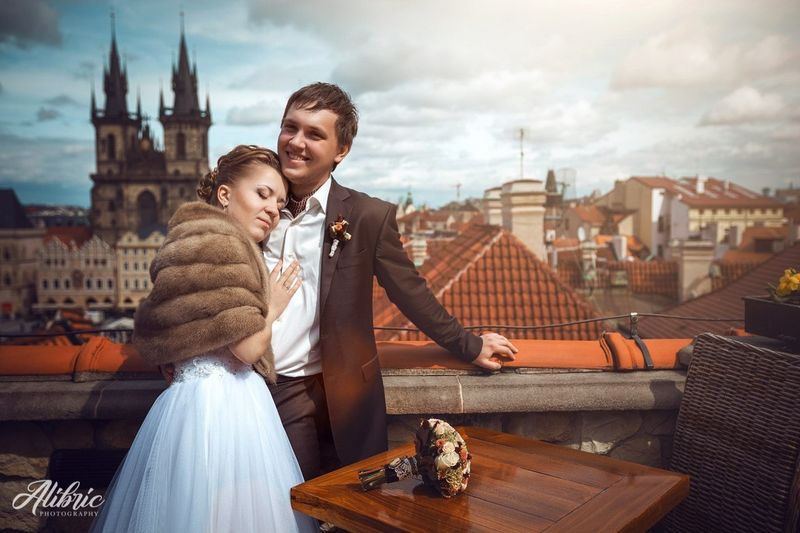 The next very popular place in Prague is an Old Town Square with the Church of Our Lady before Týn on it.
It is a heart of Prague city and you will definitely need an amazing photos from this place, but it is very important to start your photo shooting on time. Magic sun light in the morning and less tourist than usual – that is the key for your perfect photos from Prague Old Town Square.
Astronomical Clock
It is the main symbol of Prague which for 600 years has been one of the greatest treasures of the city, still amazes people. It is surrounded with historical buildings such as the Old Town City Hall with the famous Astronomical Clock, the imposing St. Nicholas Church and Church of Our Lady before Tyn, and many houses and palaces of various architectural styles and colourful history. Usually there are many couples around this place which are making they pre-wedding or wedding photos, so it can take some time waiting :). Please make sure that you have put this amazing place to your list.
Prague Castle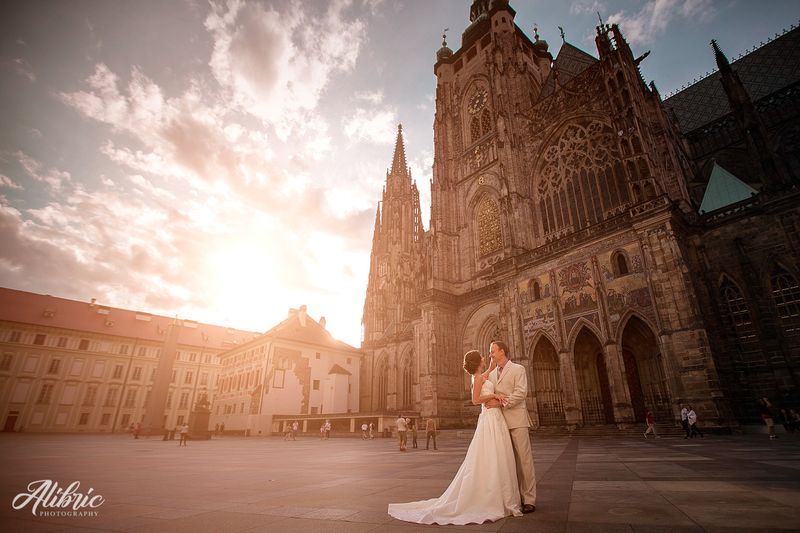 It is one of the largest castles of the world which includes different gardens, courtyards, palaces and museums . The whole castle areas are dominated by the St. Vitus Cathedral, which is one of the most beautiful in Europe. Discover this place with your photographer and get your perfect photos. We can advice you to spent there as many time as your photographer will need - every day in Prague is unique.
John Lenon's Wall
Various pictures and portraits can be find on the John Lennon Wall in Prague, which is now very popular among young artists and tourists. You can put your own picture or signature on it during your photo shooting as an unforgettable moment from your trip to Prague.
Vrtba Garden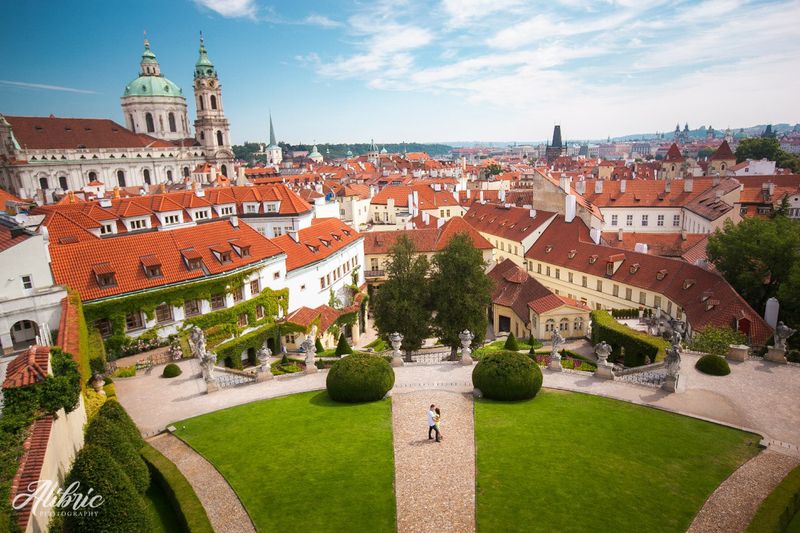 We guess that it is the most beautiful and unique Baroque garden in the whole Central Europe. It has three different terraces decorated with vases and statues. The terrace on the top provides the most beautiful view on Prague and Prague castle. The park is full of flowers and green plants, you can also find a beautiful fountain with gold fishes. You can also find here a perfect view on the red roofs and Prague Castle.
Letna Garden
Letna Park is located on Prague 7 - Letna and has the most amazing view on Vltava river. You can see all the Prague Bridges from the special view points and have an amazing pictures like in a fairy tale. Try to get there on the sunset and just enjoy you love and this romantic view.
Troja Palace
Very beautiful Baroque style Palace that is also located on Prague 7 – Troja. Garden around the Palace is splitted on three parts. The Palace has his own original atmosphere, espessialy main entrance and magic monumental two-arm grand stairway, which leads directly to the grand hall.
Vltava riverside with swans
If you want to feel yourself like in a fairy tale go straight ahead to Prague river side on Mala Strana ( near the metro station Malostranska and Kafka's Museum). You will see that this magic place has a fantastic view on Charles Bridge. Don't forget to take some snacks, this place is absolutely crowded by white swans and they are always hungry :).
Belvedere, Royal or Queen Anne's Summer Palace
A beautiful Renaissance building in the Royal Gardens of the Prague Castle. According to the history this palace was built because of true love. Nowdays this is an amazing place for the first romantic dates. The garden around the Palace is full of trees, flowers and also has an old ball games hall that is absolutely gorgeous. This place is looking magically on the sunset, so try to get there on evening.